/* php endif; */ ?>
Uncategorized
ALL 2012 North American Handmade Bicycle Show information, news, photos and videos are here:
http://reviews.mtbr.com/category/nahbs-coverage
Press Release
NAHBS builders choosing MS2(TM) by KVA Stainless
San Diego, Calif.–Following a successful debut in 2011, in which MS2-built bicycles won three awards, KVA Stainless's MS2(TM) tubing will appear in abundance at the North American Handmade Bicycle Show, 2-4 March, in Sacramento, California, with several builders choosing to use the lightweight, attractive steel in a variety of different frame types.
Joe McCrink, KVA's CEO, said, "We would like all cyclists to have the opportunity to enjoy the 'feel of steel', and with MS2 we have a very affordable stainless steel tube set that allows many people to experience the great mechanical and aesthetic properties of this material."
Press Release
ArtBike! kicks off the NAHBS season in Sacramento
Event creates color, community and celebration
Sacramento, Calif.—ArtBike!, a street art/sculpture/installation art exhibition in support of the North American Handmade Bicycle Show (NAHBS) is sweeping Sacramento with a indooor/outdoor display that started Saturday February 11th and runs until March 4th.
Two high points on the ArtBike! calendar are a party at Hot Italian, March 1, and then ArtBike! Sacramento's Avante-Garde bicycle parade on March 3.
ArtBike! manager, Julia Beckner, said "Sacramento is such a bike-friendly community with a wealth of creative talent, I'm not surprised there is so much energy and enthusiasm for ArtBike! It's great to see how many people are ready to step forward with creative expressions of their passion for including bicycles in a healthy, sustainable lifestyle."
ArtBike! was created by NAHBS to help engage the local community and is open to all. It celebrates the vibrant cycling and artistic communities that made such a compelling argument for Sacramento to be this year's host for the world-leading North American Handmade Bike Show in the Sacramento Convention Center, March 2-4.
Daily Coverage
,
Videos
Hollywood interviews Gary Fisher at this year's NAHBS and discusses the health of the hand made bicycle industry. Other topics include spats, a hand made bespoked suit, losing weight, cargo bikes and social networking.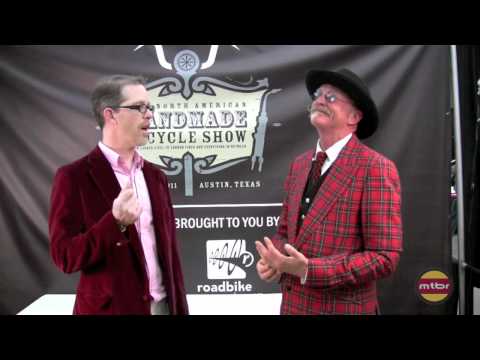 Gary's current favorite bike is a 51 lb, singlespeed Dutch bike with coaster brake. A Superfly Elite and Superfly 100 are also in his current stable. Gary has also been doing a fair amount of road riding lately too.
For more info about Gary Fisher Bikes: http://fisherbikes.com/
Daily Coverage
,
Videos
Sheila Moon shows us some "sassy" cycling clothes from her 2011 Spring Collection. Sheila Moon apparel is designed by a woman rider and is all made in San Francisco, CA.
While highly stylish and fashionable, these clothes ARE made to be ridden in as well. Shown here are:
Womens:
-dresses/boleros
-arm warmers
-lingerie liners
Mens:
-wool riding britches
-cotton/lycra version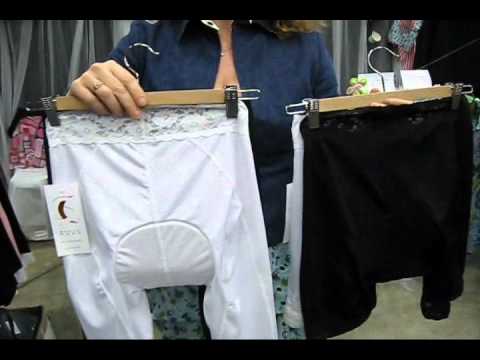 For More info: www.sheilamoon.com
Follow them on Facebook: http://www.facebook.com/SheilaMoonAthleticApparel
Daily Coverage
,
Videos
Mike Herlinger is owner and designer of Club Ride Apparel (Sun Valley, ID). Club Ride is performance oriented riding clothes that is stylish enough to wear all day even after riding or even racing in them. Many of these items feature bamboo fiber which is naturally anti-microbial. All pieces have storage options and the items with buttons have a zip system underneath for venting.
Shown are plaids, longsleeve, shortsleeve, polo-style shortsleeve (Biff) and a couple of the women's offerings (Catalina and Bandera).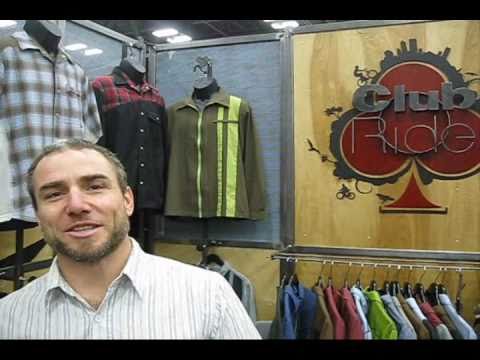 More info at: clubrideapparel.com/
Follow them on Facebook: http://www.facebook.com/pages/Club-Ride-Apparel/82018769942
Daily Coverage
,
Videos
Paul Aieta from Mountain Racing Products (White Brothers, Kreitler, MRP) shows us some new White Brothers forks for 2011. The Loop TCR and the perpetual favorite of hand builders, the Rock Solid (rigid carbon fiber fork).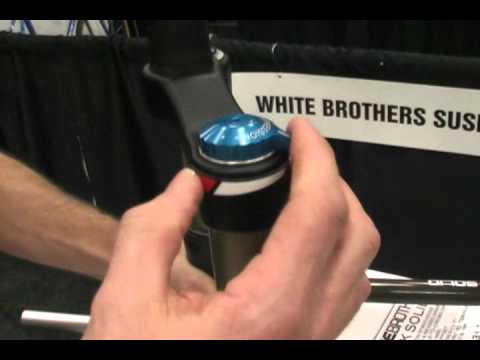 The Loop TCR fork features:
-all new 80-140mm travel fork
-32 mm stanchions
-magnesium cast lowers
-Q-taper 15mm axle system
The Rock Solid fork features:
-new stiffer crown
-new UD (uni-directional) carbon top layer
-new graphics
For More info: www.whitebrotherscycling.com
Daily Coverage
,
Videos
Richie Moore is Cysco Cycles (Ootewah, TN). He builds with steel and ti both road and mountain bikes. Shown here is this custom Lefty 29er.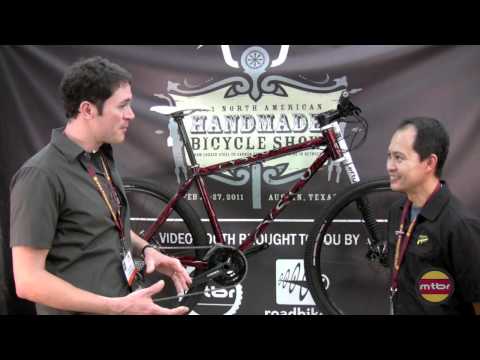 This frame features:
-sliding dropouts mean it can be run as singlespeed or geared
-tubes are shaped with twists and curves
-full custom paint
-logos are the steel showing through the paint
-bikes based around performance
For More info: www.cyscocycles.com
"At the age of 18 I was introduced to mountain biking, igniting my passion for cycling. I answered my calling and pursued a career in cycling. Under the watchful eye of David Lynskey, the founder of Litespeed, I instilled my passion for cycling into every frame. In that time I had the opportunity to build frames for many pro-cyclist and celebrities alike. Twelve years later, I am proud to still be building bicycles in the Chattanooga Tennessee area. After years of honing my craft, and under the tutelage of David Lynskey, I decided to venture out on my own and build custom. I created Cysco Cycles out of the awe-inspiring rides that gave me my passion for cycling, in the foothills of my birth in the small town of Cisco Georgia. Today my passion for cycling is as strong as ever and you can bet that if I'm not building yours, I am riding mine..
Richie Moore"
Daily Coverage
,
Videos
Tim O'Donnell is Shamrock Cycles based out of Indianapolis, IN. He builds exclusively with steel.
Tim is a big fan of function and practicality as is evident in this 650B Full Suspension All Mountain Trail bike here.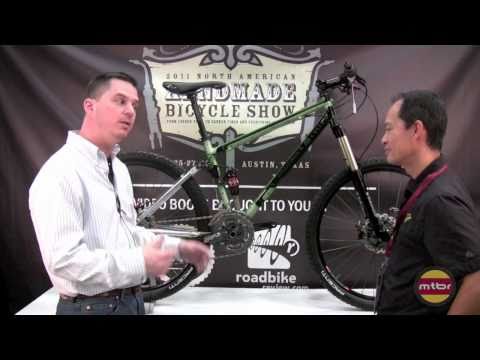 This frame features:
-5″ travel front and rear
-Ventana rear
-650B Specific design and geometry (not a downsized 29er or an upsized 26″)
-also available in a 4″ travel version
For More info: www.lugoftheirish.com
"I am Tim O'Donnell and welcome to the Shamrock Cycles website. Shamrock Cycles is a custom frame building shop dedicated to providing hands on service and delivering the best possible product to my customers. I provide custom road, track, mountain and cross frames as well as complete bike builds at affordable prices."
Find him on Facebook: http://www.facebook.com/profile.php?id=1413520834
Daily Coverage
,
Videos
Todd Ingermanson is Black Cat Bicycles from Santa Cruz, CA. Here Todd shows us this lugged steel 29er singlespeed. Todd makes the lugs himself.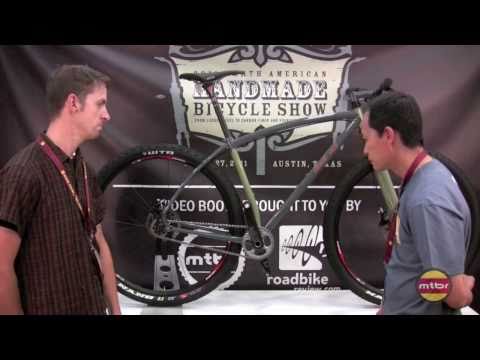 This frame features:
-Lugged steel
-Swing style dropouts
-Curved seattube for shorter chainstays
-rigid fork
For More info: www.blackcatbicycles.com