Richie Moore is Cysco Cycles (Ootewah, TN). He builds with steel and ti both road and mountain bikes. Shown here is this custom Lefty 29er.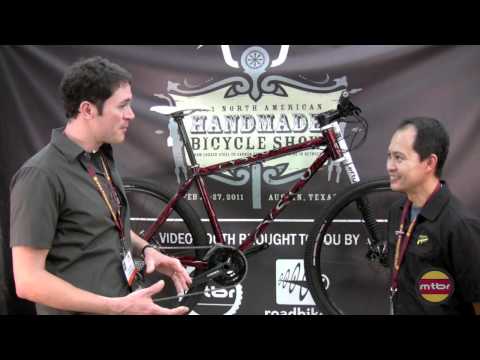 This frame features:
-sliding dropouts mean it can be run as singlespeed or geared
-tubes are shaped with twists and curves
-full custom paint
-logos are the steel showing through the paint
-bikes based around performance
For More info: www.cyscocycles.com
"At the age of 18 I was introduced to mountain biking, igniting my passion for cycling. I answered my calling and pursued a career in cycling. Under the watchful eye of David Lynskey, the founder of Litespeed, I instilled my passion for cycling into every frame. In that time I had the opportunity to build frames for many pro-cyclist and celebrities alike. Twelve years later, I am proud to still be building bicycles in the Chattanooga Tennessee area. After years of honing my craft, and under the tutelage of David Lynskey, I decided to venture out on my own and build custom. I created Cysco Cycles out of the awe-inspiring rides that gave me my passion for cycling, in the foothills of my birth in the small town of Cisco Georgia. Today my passion for cycling is as strong as ever and you can bet that if I'm not building yours, I am riding mine..
Richie Moore"
Related posts: